Regular price
$15.99
Sale price
$15.99
Unit price
per
Sale
Sold out
View full details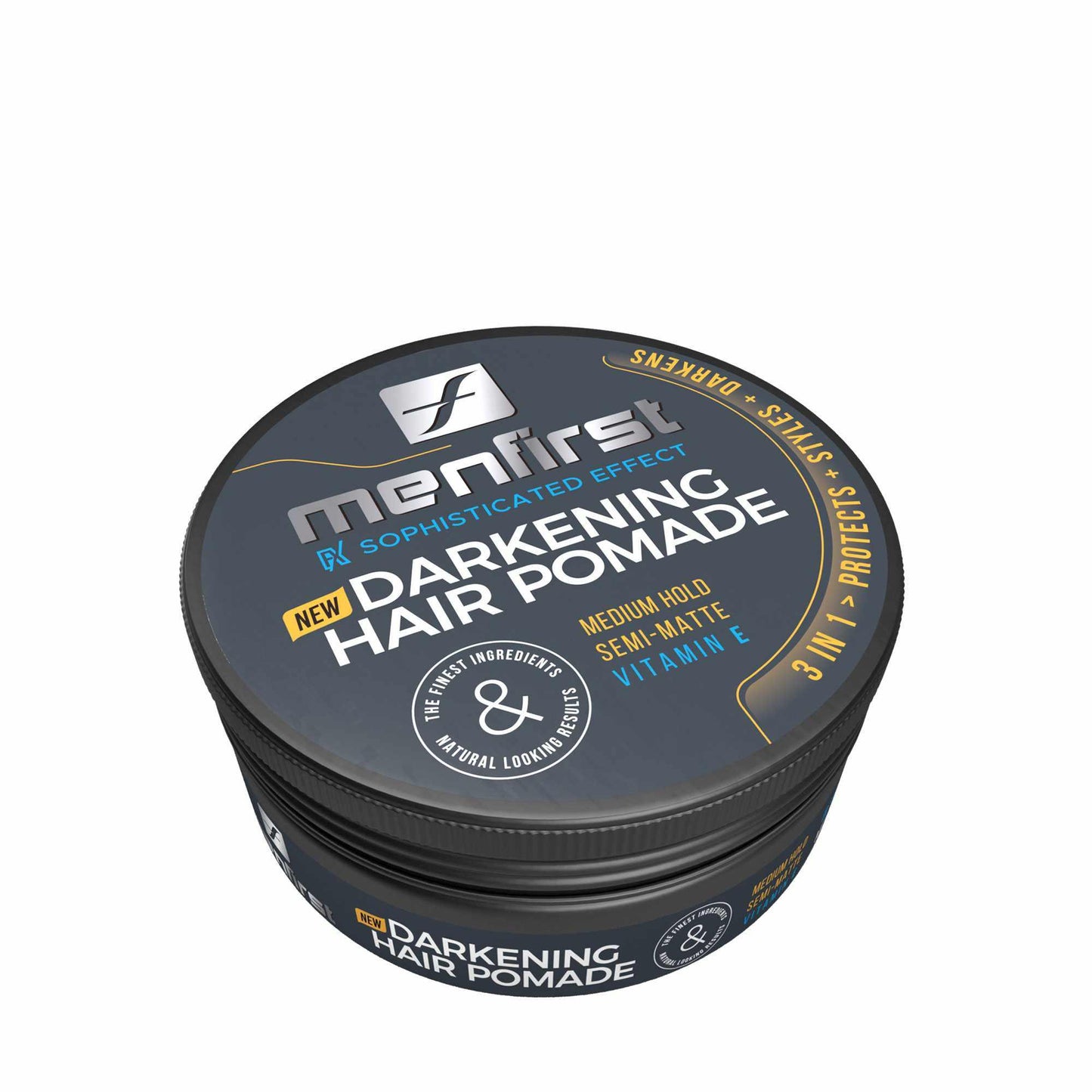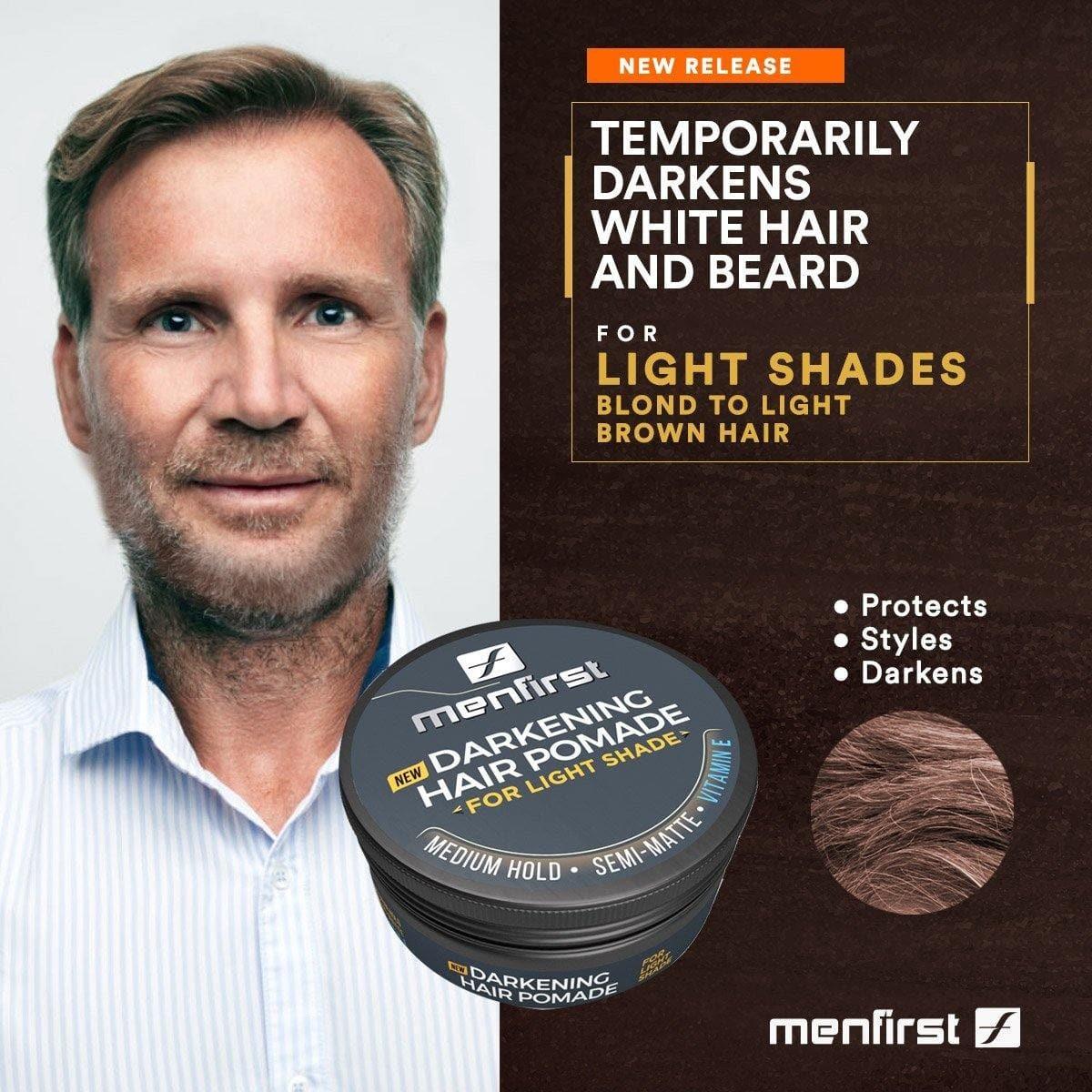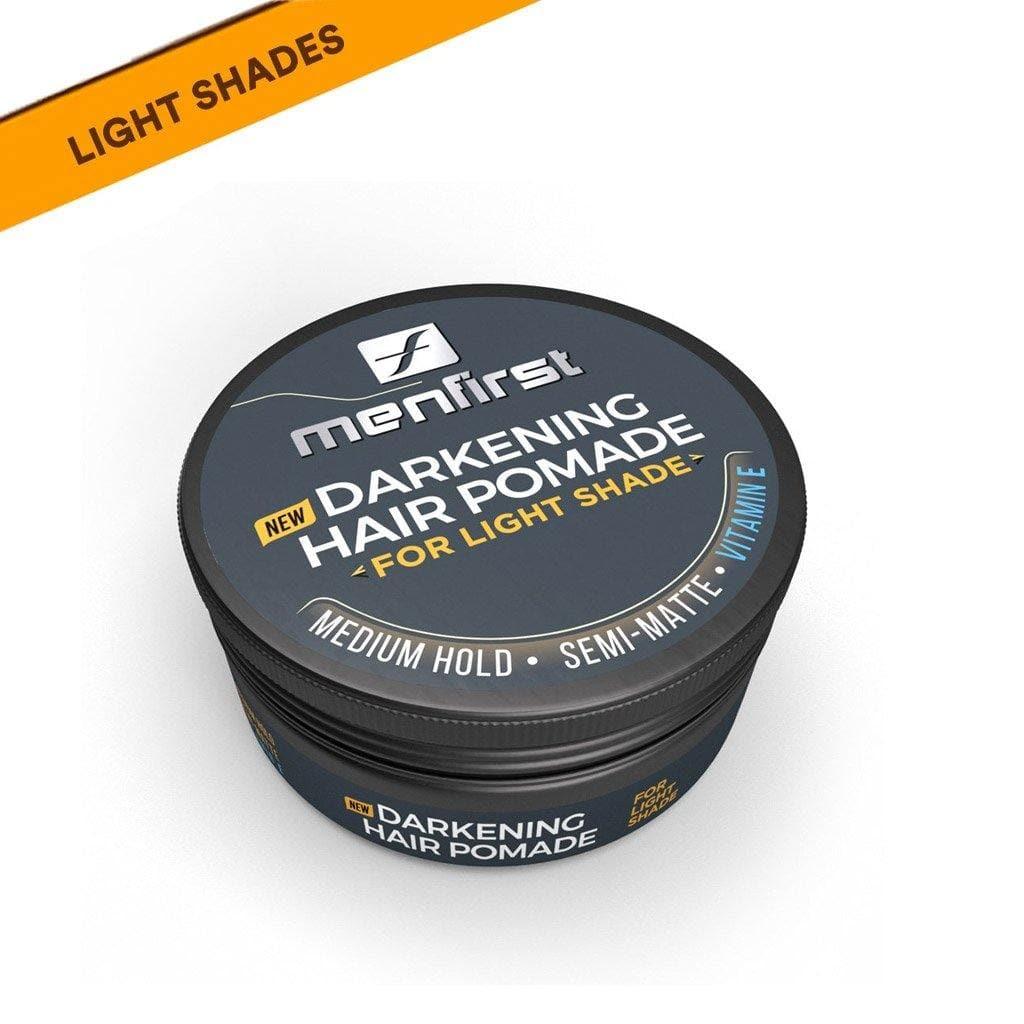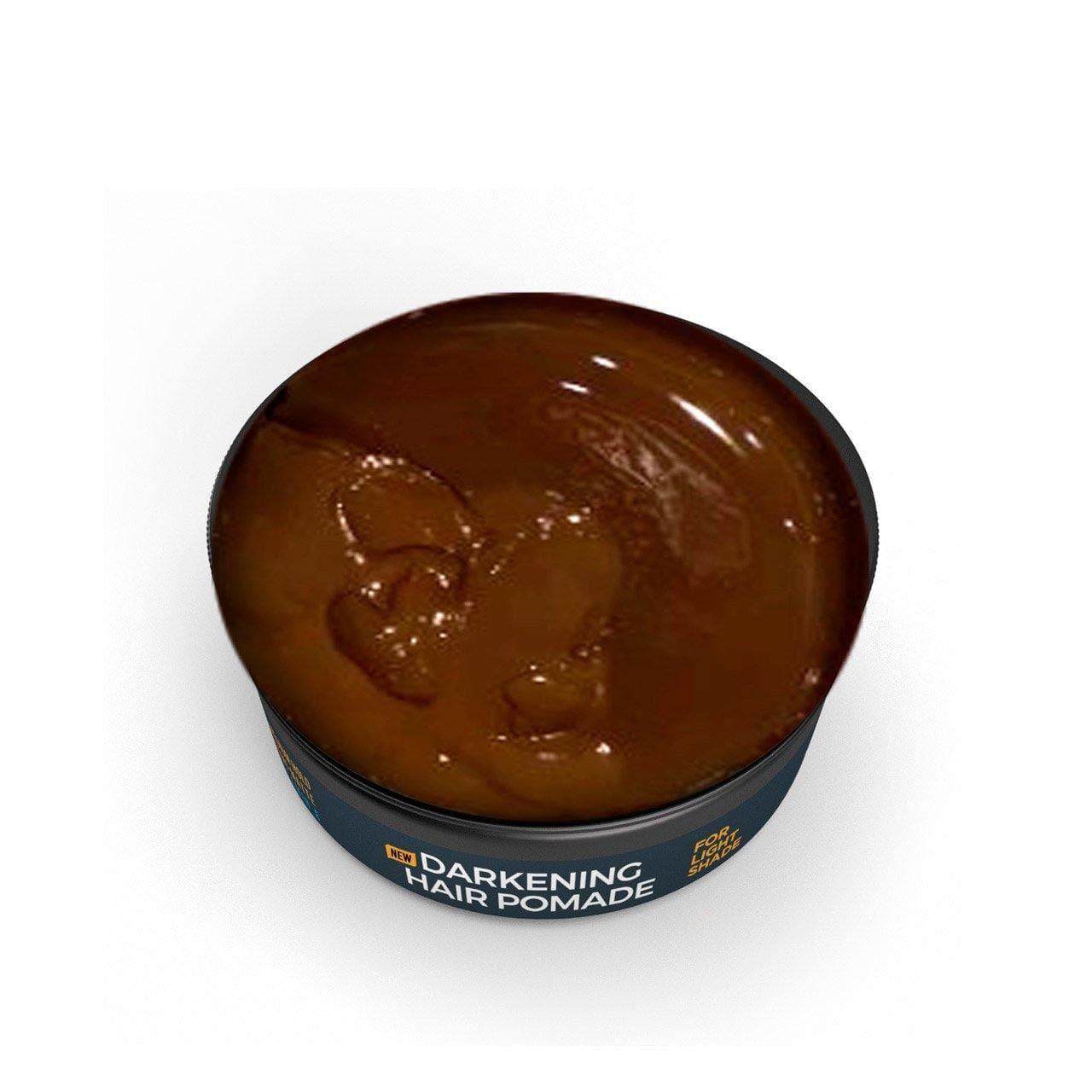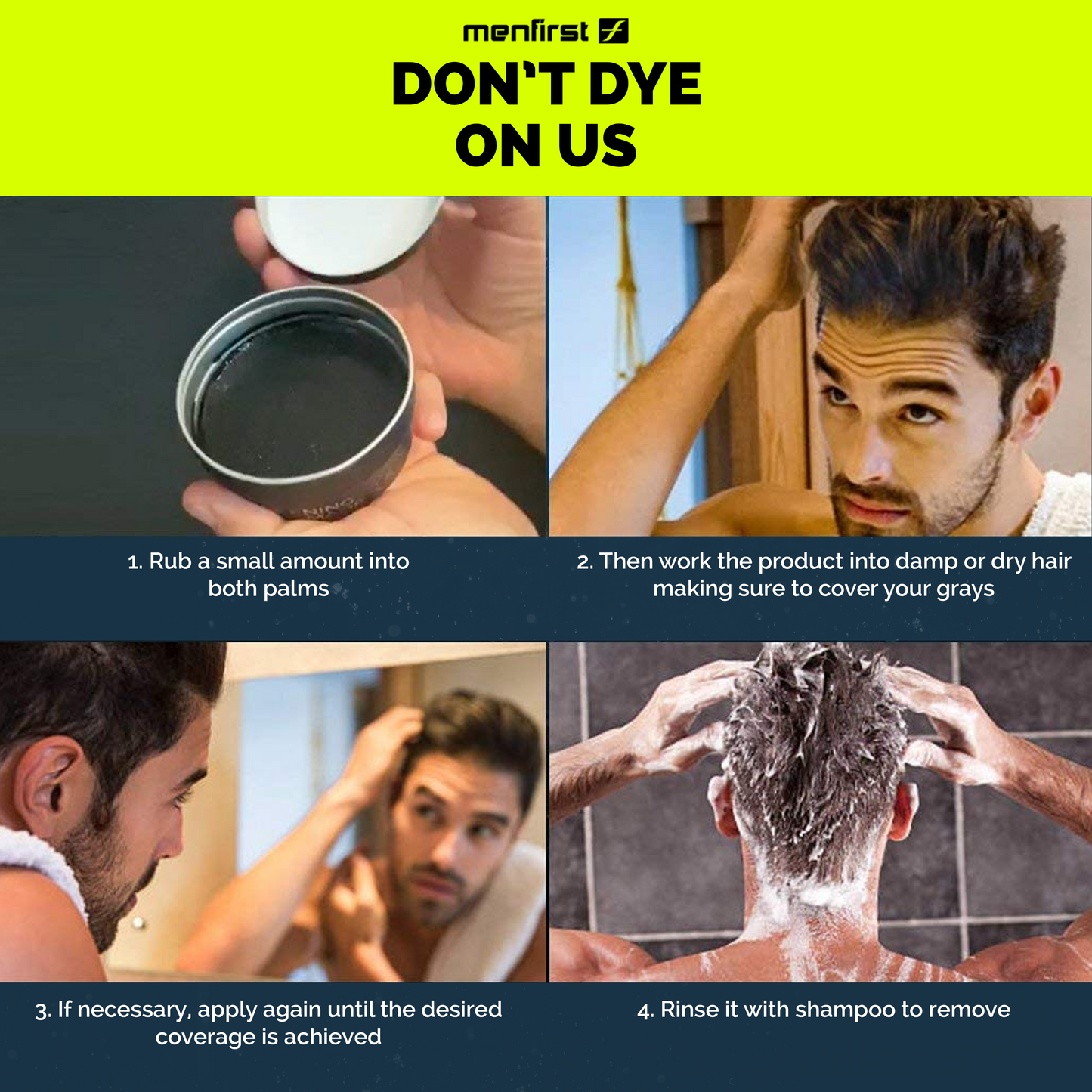 gradually darkens your hair

sophisticated styling

has clean ingredients

it gives natural-looking results

has smooth scent

tames hair with no bleeding

infused with Vitamin E

it's paraben-free & sulfate-free
WORKS ON SENSITIVE SKIN
Designed with utmost care, our products are free from harsh chemicals making it perfect for those with delicate scalps.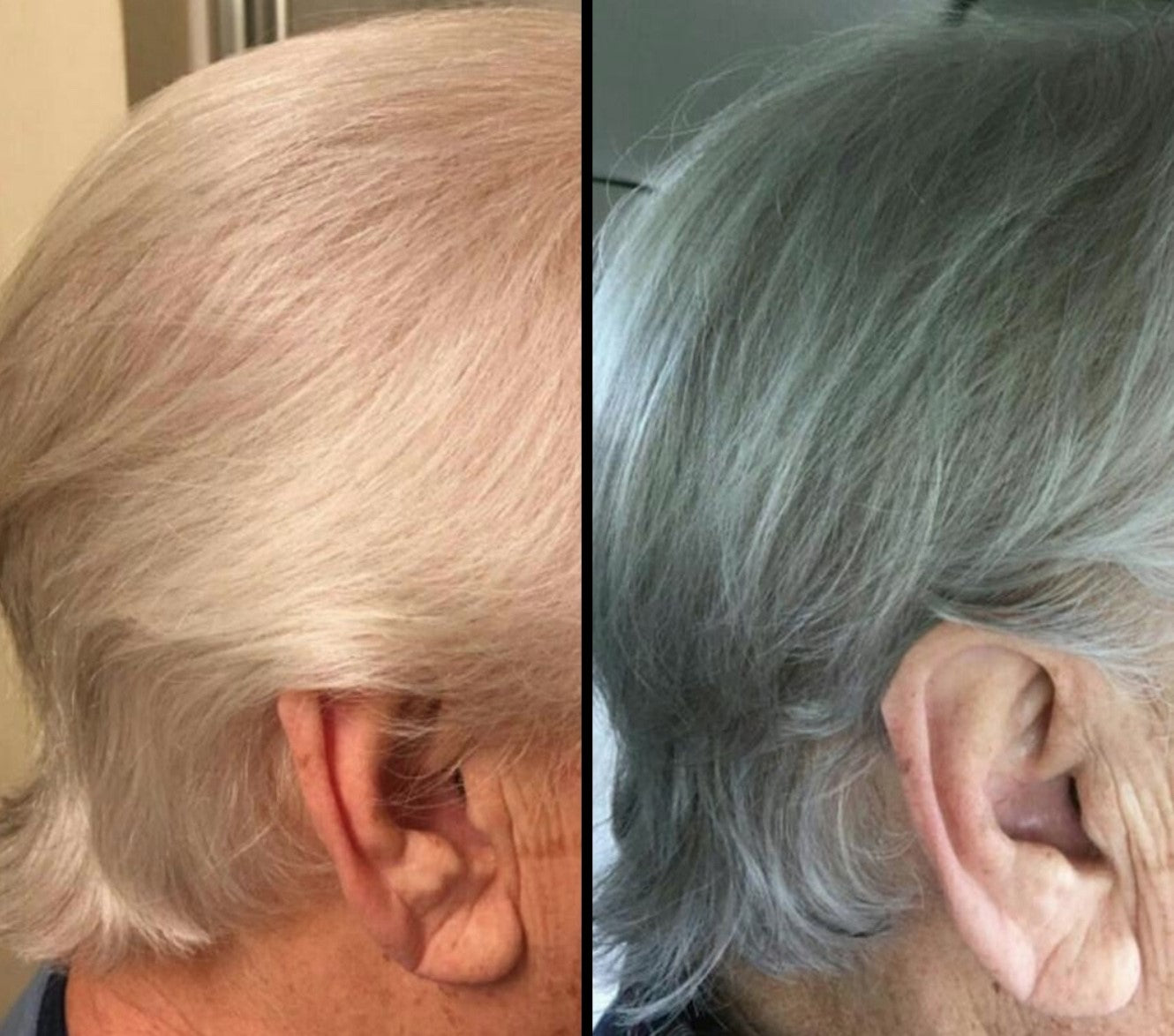 DARKENING HAIR TECHNOLOGY
MENFIRST believes the modern man seeks to improve his appearance with products that combine cutting-edge technology, practicality and innovation. Cover your grays while nourishing your hair!
Shop Now
HOW TO USE THE DARKENING HAIR POMADE
Step 1 : Rub a small amount into both palms, then work the product into damp or dry hair making sure to cover your gray.

Step 2 : If necessary, apply again until the desired coverage is achieved. Rinse with shampoo to remove.
Collapsible content
Towel-dry your hair (and leave it slightly wet)

There are a few exceptions, but generally pomade is best applied to towel-dried hair. That's because pomade is activated by water, which differentiates it from dry-application products like waxes and fibers. So, once you've rinsed or showered in the morning, dry your hair almost all the way. You want a little dampness when applying pomade.
Emulsify a small amount in your hands

There's no single answer to the question "how much pomade should I apply?" because each product will have its own rules, and each guy will have a different amount of hair to work with. So, the best advice we can offer is this: If you hair is long enough to style with a comb in the first place, then start with a pinky-fingernail-sized amount.
Warm this product up in your fingertips by rubbing both sets of fingers together in counter-circular motions. It should be evenly distributed across the fingertips, and is now ready to apply. (You will repeat this process if you need more product after all. Then, in the future, just apply more to begin with.)

Target the Gray First for coverage or target the roots first for styling.

Here's where physics plays a role: You need to target the roots first. The base of the hair shaft is where you take control over your hairstyle, since that's where you influence its direction. This is also why it's important to warm up the product in your fingertips and not your palms, so that you can get all the way to the base of the hair and actually massage the product in. And don't worry, you'll still get the product through the entire hair—that's in Step #6. However, keep this styling advice in mind for any and all products, particularly the ones that you apply to dry hair. You need to target the roots first, in order to define the style.

Give it a 360 application

Depending on your hair length, desired style and amount of gray coverage, you might need to apply pomade all around your head making sure to . So, warm up more product as needed, and know that as you apply it with your finger tips, you can also run your palms through the hair to collect more product and spread it uniformly. You may not need to control the direction of the back of the hair, for instance, but you may want some product there so as to match the back and top in shine. More importantly, you will need to get as much product in the sides of the head as you do up top, because they are most certainly part of the comb-through final look.

Comb it through

Now you can fully distribute all of the product throughout your hair. Most of it will still remain at the base of the shaft, but you'll comb any excess through each strand so as to control the entire style and ensure that your shine and grip (or lack of either) is uniform. After it's combed, you can still break it apart with your fingertips, and tousle it into a more piecey final look. But the act of combing it is important just to get the product evenly distributed in the first place.

The final step: Air dry or blow dry

Lastly, you have to decide whether or not you want to lock in the style with a hair dyer. A dryer increases the longevity of the hold. The dryer also gives hair a lift, which can be useful considering you have weighed it down a little with your hair product. So if you desire a little more buoyancy and texture, just blow dry and keep your comb on hand to retain the style as you go. Now instantly have hidden your grays while creating a sophisticated look.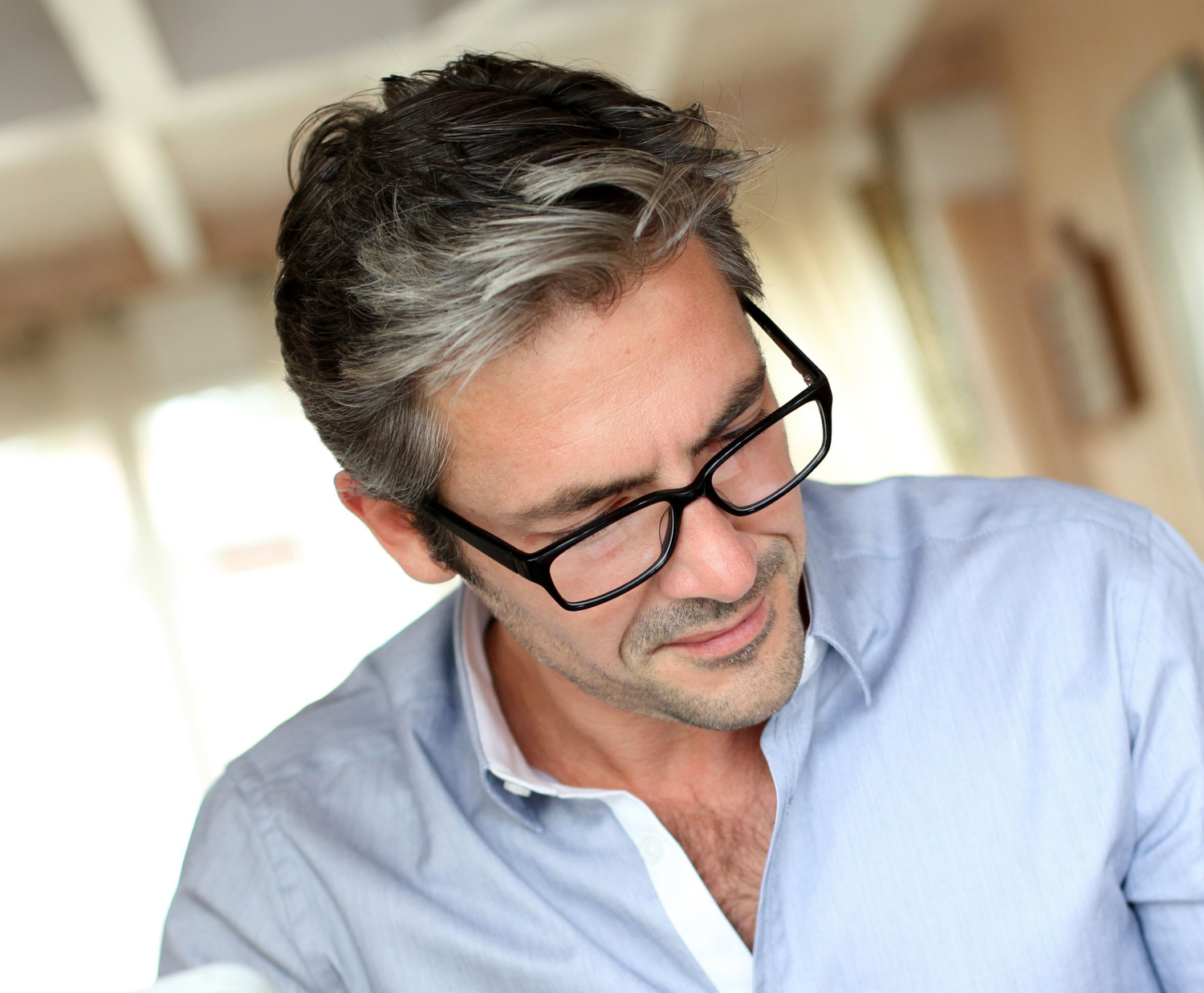 GET TO KNOW OUR INGREDIENTS
We replaced the harsh chemicals with hair-loving ingredients! You're not only gradually darkening your grays and washing your hair, you're nourishing it too.
• Gradual Gray Technology
• Keratin Protein Complex
• Vitamin E
Check full ingredients here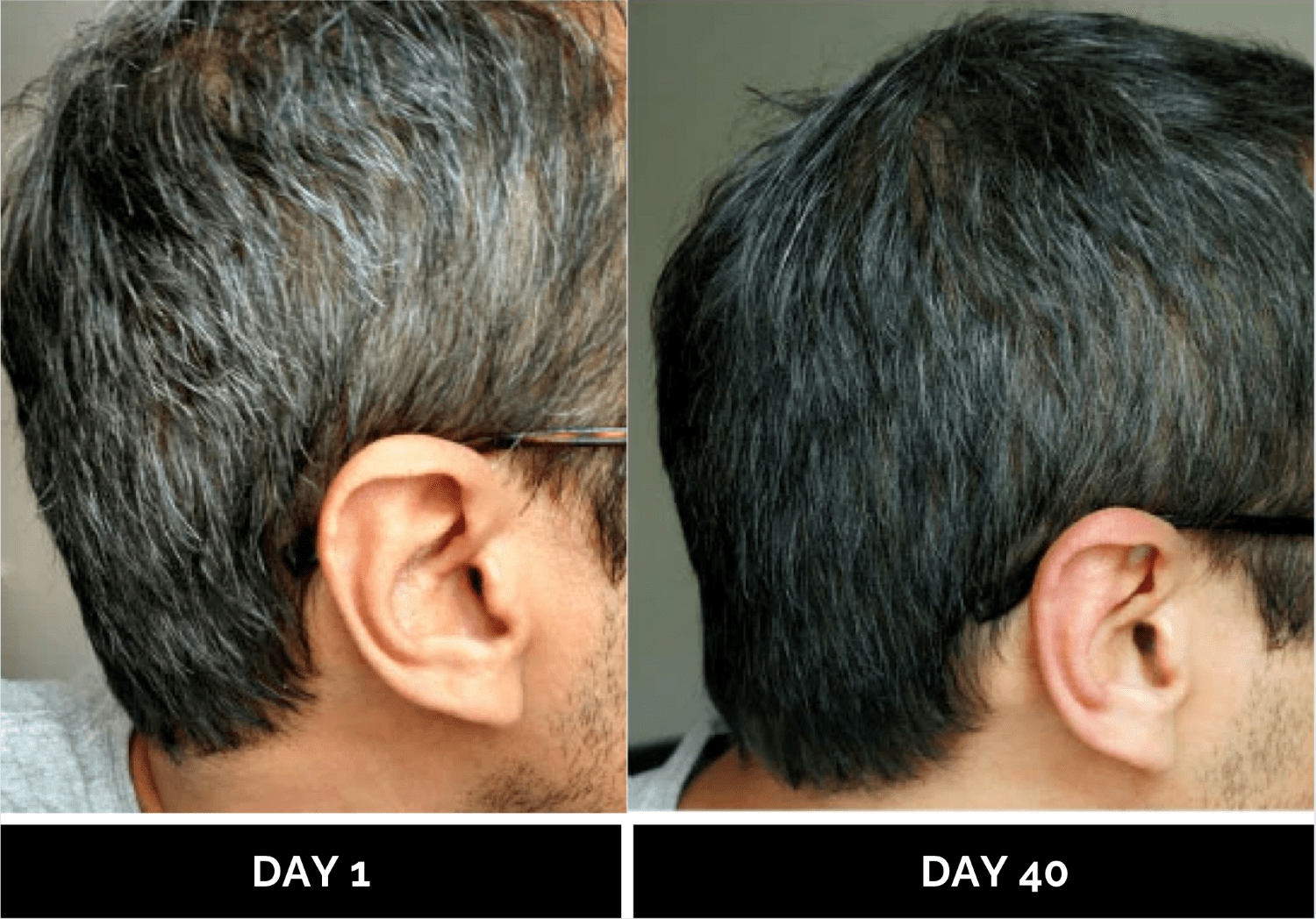 No Orange Result

You are in control of your color.

Gentle on Skin

Lab tests performed by IPCLIN dermatologists.

Stain-free

Menfirst formula can be used on all shades of hair – even lightened, bleached or colored hair.

Chemical-free

Safe formula that can be used on all shades of hair – even lightened, bleached or colored hair.
Frequently Asked Questions
Precautions: External Use. Keep out of the reach of children. If you are allergic to any other formula's components, discontinue use. This product is not a sunscreen.
Menfirst Darkening Hair Pomade is a black pigmented styling paste that attaches to the outside fiber of the hair and instantly darkens white and gray hair.

In addition, dark or black hair looks more intense. The wax-like paste controls rebellious and frizzy hair and provides a medium hold. Promotes semi-dry and natural looking finish.
Rub a small amount into both palms, then work the product into damp or dry hair making sure to cover your gray. If necessary, apply again until the desired coverage is achieved. Rinse with shampoo to remove. Wash hands after use.
YES! Different than the other Menfirst darkening products the POMADE will not continuously darken your hair with each use. It will give you IMMEDIATE coverage and will be removed when you shampoo your hair.  
Just about 90% of instant coverage while styling your hair. The more you apply the more coverage you will receive. If you would like to speed up the process include the GG Darkening Shampoo in your routine. 
Yes! It can be used throughout the entire day.
It lasts the whole day until you shampoo your hair. 
No! We do not use harsh chemicals like other products. In fact MF Hair Pomade is formulated with clean ingredients infused with vitamin E, which has antioxidant properties.
Yes, unlike the other formulas, MF Pomade can be used on lightened, bleached, or colored hair. MF Pomade does not use any harsh chemicals or metallic salts.